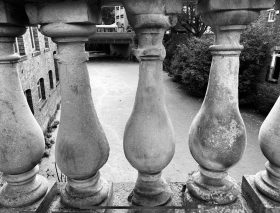 Blackpool to York
18th September, 2021
In the early evening I walk south along the waterfront, the Welsh hills pale in the distance reaching out to Ireland. I come to the end of the promenade and find a stretch of natural beach, with high grassy dunes. I climb up and watch another sunset as a dog barks and the sea spills onto the sand with that whisper of applause. There's a figure with a paddle standing on a board on the tide. They don't look like they're having much fun. As they manoeuvre into shore I see it is a man and he steps into the surf and wades ashore like a conquistador in the Caribbean. Three metal detectorists scan the sand. A girl on a horse trots past. Behind me the three-quarter moon peeks back at the sunken sun as if from the wing of a stage. The horizon turns tangerine for a few moments and I take my leave as some teenage girls behind me play a dance tune on a phone.
The following afternoon I head back to the sea, walking south to Lytham St Annes, bare feet in the surf, hundreds of metres out from the dunes. The coast is unsullied by the usual human detritus, the only trash being razor clam shells left by the gulls. I wade in up to my knees as the hot September sun warms my back.
The venue is situated in an area of town I'd been looking for yesterday — almost urban. After a cursory soundcheck I wander around a vast supermarket imbibing the impression of civilisation. There's heavy mobility scooter traffic around here. Most of the operators of these vehicles appear young and drunk, cruising to a blissful early death. I meet up with some old friends, at the required distance, of course. They tell me some of their Covid story, much worse than most. My Covid story is pretty tepid. Album done, dead dad, Zoom drunk, vaccinations, album out. The gig, the Opera House Theatre in the Winter Gardens complex, is a 3,000 capacity theatre built in 1939. The corridor walls are bedecked with posters from the '40s, '50s and '60s — Cliff Richard, Bob Monkhouse, Sir Arthur Streeb-Greebling, that sort of thing. There is an enormous stage framed by a huge art deco proscenium arch, like the Hollywood Bowl has landed in the middle of the northern variety circuit. It sounds like the old Glasgow Apollo — a venue of similar size, though built as a cinema a decade earlier — with a cavernous reverberation and swooning bottom end. The crowd are Friday night gung-ho and it's a tonic to see people on their feet, shouting requests and heckling.
We depart at midday and I say farewell to my 48 hour temporary home, the rollercoasters rattling madly over our heads as we load up. The sun breaks through a canvas of cloud extending summer another day, autumn nowhere to be seen.
In York I take to the town, entering the city via a gate in the walls by the venue. There's a street food festival going on and it's nerve-wrackingly crowded. No one is masked apart from me and a few East Asians, who know better. I wind through the medieval street plan, sloughing off the sordid stench of seaside and find a bench in Dean's Park in the grounds of York Minster. It's still hot, worryingly, weirdly, out-of-whack hot. Little groups lay about chilling on the lawns. The town is crawling with day-trippers, diseased with docile consumers. A nerd plomps himself on my bench to scarf down some pot of gruel. This is all too intimate for me. I check the meaning of "plomp" online. I must say, I didn't know that.
The cathedral bells strike three, sounding rather tinny until the big one intones the hour with a gloriously macabre moan. It's way too busy to be sightseeing so I decide to give the minster a miss. A man passes and turns, recognising me despite my mask. He tells me he is coming to see us in Southampton, which is just weird. I have to decline his handshake in the usual awkward way. I've always enjoyed shaking hands, it's such a simple way to make casual contact. As long as you don't get a bone-crusher moron. I don't miss all the fucking hugging that's become de rigueur in recent years. I think the Americans started that. People you'd met twice two years previously grabbed you in a violent bear hug. It's like being kidnapped for a second. What the fuck is going on? Some old fellas take the next bench, conversing in the broadest Yorkshire accent I've heard, definite articles ground down to "t"s or dispensed with altogether. It has a biblical sound. A group of kids come over to climb a tree, like characters from Enid Blyton. A man walks by in a Levi's T-Shirt and I realise it's an anagram of Elvis. Only took me fifty six years to figure that out.
The York venue is a modern multi-purpose place we've done many times before. For the first time for us it's all seated, the rows banked up before the stage like a dark blue amphitheatre. I wander about bored, trying to find a place to perch for the dragging hours before showtime. There's no daylight backstage and I feel claustrophobic. The minutes creep by sluggishly. So much time spent in anticipation, so little action. I duck out of the stage door at dusk to search for the moon — and there she is — orange-pink and so low on the horizon she looks like a bowling ball sliding along the rooftops. I come back inside as the opening act strike up. The building starts to come alive.