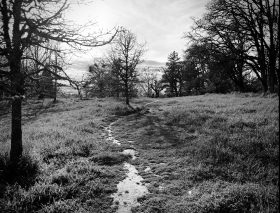 Berkley and Eugene
1st April, 2022
I drop down from my bunk around 10am. There's a foul odour in the air. Gary, our trusty driver, informs us "we got bad water" and goes off to find some bleach. It's so fetid aboard I abandon ship and hike up a hill to a student café on a corner of the vast university campus. As I shovel in the victuals the street beyond comes alive with a swarm of scholars. The weather is cloudy and cool, the scene civilised and serene; we ain't in So-Cal no more. I begin to contemplate what the hell I'm going to do for the next five hours once I've dabbed these few letters into my demonic device. Wandering about aimlessly seems to be the best option. I'm not too keen to be back on swamp bus any time soon. Descending through leafy college departments I'm treated to a glimpse of San Francisco Bay in the distance, the city skyline shrouded in light mist. I weave in and out of thrift stores and corner groceries, buy nuts, bananas and chocolate. A woman accosts me asking where I got my hat. I freeze in a haze of stupidity. I'm trying to remember, I say. I obviously appear like a mad old man as she quickly makes haste. I turn a corner and remember — Orkney.
After soundcheck we hook up with our old pals Alison and Caroline, eat noodles and catch up. Then I skedaddle to meet with teacher/author/music writer Alex Green. We order tea in a bar and sit on two wooden deckchairs on a little platform as if we are in a Beckett play. When the waitress arrives Alex says, "we are two men taking tea" and it cracks me up. But time on tour is always too short and I have to skip back to the bus to warm up my old larynx. Ba ba ba ba ba ba—pah!
Exhausted after the show I retire to my coach coffin and am asleep in minutes. In the morning I peek out of my bunk curtains to see we have arrived in Eugene, Oregon for our first day off. My hotel room has been decorated in a sort of 1950s college chic, all deep brown wood panelling and green tartan drapes. The bathroom is lined with fetching duck patterned wallpaper. I venture out through the sleepy tree-lined avenues, past weed dispensaries and angling shops. There are the muttering street victims you see in every city of the western world — vagrant, horrified and abandoned. It's a pleasant spring day and I sit outside a craft ale pub and order a Reuben sandwich and coffee. A dork glides past on the world's smallest skateboard, like he's balancing on a single roller skate. A bearded bloke with a sleeping bag under his arm approaches in a private hell, barking unintelligibly about rape and cocksuckers. Someone's painted an old fire hydrant in the colours of the flag of Ukraine. As I leave a brown butterfly flaps through the table legs seeking sweetness from somewhere. I wander further around the pancake-flat grid of downtown to form my own shallow impression. Eugene, it would appear, is the place you come to smoke weed (or cigars), have your malady fixed by a wellness quack and get a tattoo. I suppose you'd call it a hippie city but it's beyond that. It's the corporate HQ for alternative profit accrual.
In the early evening, with the lowering light catching the town at its best, I clamber up Skinner's Butte, a volcanic plug named after the town's "founder" Eugene William Skinner. This being the US there's a car park at the top and locals sit around on concrete benches sunning themselves and taking in the view. It reminds me a little of Bergamo, Italy with the pines and distant mountains and the town ringed around the hill like an atoll. I turn my face to the sun as Bob Marley drifts through the gloaming like smoke. From below comes the distinctive moan of a train whistle sounding its low mournful chord. I see it snake away through a gap in the trees.