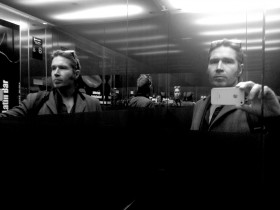 Bath, February 25th 2013
26th February, 2013
We ease into Bath's one-way web in the early afternoon. I dump my accoutrements in the little box of my room and seize the chance to have some real food. The Yo! Sushi I accidentally settle on is staffed by zombified students who appear to be auditioning for a particularly hellish reality show. One of the chefs is wearing a jauntily poised pork-pie hat over his cook's skull cap. He's as unhappy a hipster as you'll ever see. The sad morsels of finicky food revolve around him like piranha circling for a feeding frenzy. He wards them off by chopping radishes at a lunatic intensity sounding like a woodpecker having a heart attack. My colour-coded plastic dishes pile up in a shaming show of greed. The oceans emptying into rich folks' mouths.
I like the venue, though like all converted cinemas there was never any need for a backstage so our dressing room is a triangle of cupboard at the top of the fire-exit stairs. A further triangle is carved off by a toilet cubicle in the corner, itself cut into two like some ever repeating fractal. No room to swing even a kitten, I hasten back to the hotel after soundcheck to enjoy a refreshing snooze populated by a quick jumble of dreams.
The show is fairly relaxed or at least not as insanely uptight as always with the likes of me. I have a drink with a few folk in an Irish pub around the corner in a daring attempt to socialise that closely resembles fun. In the morning as we light out I see another hat shop and request leave to swing inside for a swift survey. The proprietress is a vicious snob with a nasty complexion like badly butchered meat. She makes me as unwelcome as a stale fart so I linger to irritate her as she eyes me suspiciously while dealing with a woman's alteration. She won't be getting my money. Not even if I unearth the most wonderful titfer in the world, a top hat made from badger with a band of Spanish leather and lining of finest spiders' silk. We drive out past the racecourse, closed until spring. The sky is solid steel grey, unrelenting and angry like an iron curtain across the sun. Sheffield is on our horizon drawing down all this base metal for its saucepans and silverware, a shining city on a hill.