Back to Gatwick
17th August, 2013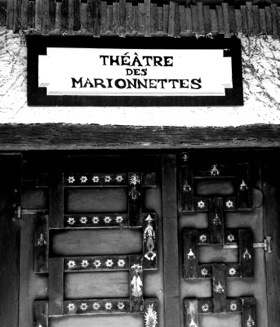 .
After an arduous soundcheck trying to fit eleven lines into eight channels I take a stroll to the river beach, a strange French phenomenon whereby a bend in a country river is converted into a virtual beach by the application of a few tons of sand. It's not for me at all. It's just weird – people doing beachy things in mottled green water with trees all around. I walk to the end where there's a weir. Some local teenagers are frolicking in the miniature cataract, a relatively risky business. I take a cold cola in the "beach" bar and gaze out upon the odd scene from the shade of some saplings. It's slightly reminiscent of Seurat's The Bathers but with more undressed flesh. An English man standing near me has swimming trunks so short that he looks naked from below his shirt. The music emanating from the bar behind me is Euro Rave stodge, churned out by some cynic in a Paris studio day after day like toxic meat pies. DJ Cuntface and his callow crew. But the sun is warm and feels so beautiful on my face as it filters through the leaves. I'm starting to relax again. This must be prevented. I try to think of stressful things but all I hear in my head is a ringing church bell coming from the hill and a whispering noise: It's all shit but it doesn't matter anymore.
After the show, which is in two parts like a pantomime horse, I scoff some lovely scran in a room reserved for dressing, bread cutting and other minor catering operations. I'd managed to catch the end of the England v Scotland friendly in the bar during my intermission. Everyone was English but the nice northern lady behind the bar extended a drop of sympathy at Scotland's loss. Later I have a chat with some frands who have delightfully made the trip, quite unexpectedly. I meet Nicky from The Rezillos who was a friend of deceased Dels guitarist, Jon McLaughlin and we swap tales. Jon came to a sticky end, suffering terribly from health issues associated with diabetes. He's the first of the gang to die. But you can't stop the Brotherhood of Rock, no siree. Well, not until Keef pegs it. Then we're all fucked.
I awake shivering at 7am, my belly swollen and turbulent. Steak tartare!!! The cow takes its violent revenge and I grab a few hours sleep before having to go to the airport. I'm weak as a drugged rabbit from fluid loss. I've been tartered. Ew. At my lengthy layover at Gatwick I find a bright corner to park my gear and recuperate. Immodium has saved the day. I am mobile. A nice man with two charming blonde boys says hello and expresses his love for the great first Dels album from '85. He was one of the fifteen folk who remained to watch us at Reading University that year after we cleared an enormous room of a thousand people within minutes of taking the stage. I thank him humbly for his faith and resolve and he tells me it was worth it as he and his friends loved the show. I am cheered immensely by this.
The time comes to trawl back through security to airside. There again are those be-kilted Scotland fans, returning from the match. They're all cheerful enough, going home with a respectable defeat in their back pockets. Yep, that's about right: three-two. We came, we scored, were conquered.