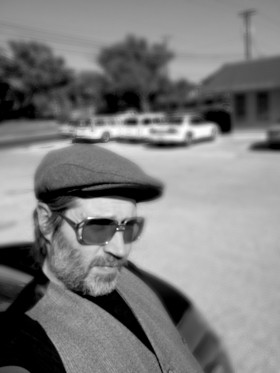 Austin, Day Three
4th October, 2012
Again I surface suddenly from slumber at stupid o'clock. Too long flipping through the late night talk shows. What a strange thing they are. I watch Craig Ferguson, a fellow Glaswegian who kindly had me on his show on my last album more through regional loyalty than anything. His show stands out from the others but I can't put my finger on why. There's a genuine anarchy vibrating under the surface. You have the feeling he might just go utterly ape at any point. He's a tightly coiled lunatic held in check by the sobriety of the slick showbiz format. It's like watching Godzilla prune a bonsai.
I attend to electronic chores to kill off the early morning. Computers and phones swallow time like black holes. Later I take a drive around to find supplies and sustenance. Listerine and tacos – breakfast of champions.
We spend another day footering with the songs in the raw. On a coffee break excursion Mr. McC takes me to a record shop full of pristine vintage vinyl and I snatch two Ann Peebles albums produced by Willie Mitchell that I've not heard. This is the problem with the US; you can never bring a big enough suitcase. I may have to jettison some old underwear. When I was touring Europe in 1986 at the age of 21 one of the band spotted that most of my underpants were labelled "M&S 9-11 yrs". I suppose they just stretched with the times. I left them all in a laundry bag in a hotel on the outskirts of Florence. I'm still grieving.
Tonight is the first of the three presidential debates so we quit in time to catch it. Obama comes across as oddly complacent while Romney very cleverly appears conciliatory, drawing himself closer to the President and the middle ground leaving Obama, expecting Romney to be simply speaking to his own hard-right constituency, with nowhere to fight. It's a blow and it's horrific. What I find surprising and impressive is that the debate is aired on virtually every channel on my hotel TV – I count at least ten broadcasts – and I don't see any commercial breaks. The other thing that's weird is that each channel edits and mixes the feed in its own fashion, some favouring long shots and two shots, some close ups and split screens. There are so many ways that the US is a more participatory democracy than the UK. Of course, tragically, like nearly every other capitalist democracy, both polities limit the range of argument in the mainstream to myopically narrow agenda. Is there anybody, anywhere on UK or US television, arguing for the public ownership of banks, power companies, the pharmaceutical industry, mass transportation? Or statutory regulation of wage inequality? Or about the insanity of criminal justice systems that throw citizens into boxes to moulder and foment social resentment? The continued tolerance of the liberty of Ed Sheeran?
I am groggy in the morning and open the blackouts to reveal the shock of an overcast sky. I take the big boat of the hire-car out for the daily trawl for breakfast. By the time I find a place it is roasting again and the clouds are split by the Texan sun which seems to hang low over the terrain like a thermal lamp over a kitchen pass.