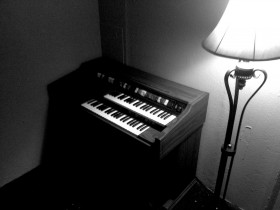 Austin, Day Seventeen
24th October, 2012
Monday. Three days to go till I get on that plane that takes me to the plane that takes me home. I arrive but there's no one at the bunker so after waiting I take a drive to find a bag somewhere to throw my laundry in and over my shoulder but the luggage emporium suggested by Apple's new map application doesn't exist. Unless its an underground luggage shop dug beneath somebody's clapboard house. Sometimes the simplest things are the hardest to find.
I return to find David (Dah-veed; no Day-vid, he) with an electric guitar strapped around his neck plugged into a DI-ed Mesa Boogie via an Echoplex, a groovy little tape loop delay machine which has featured heavily so far on everything from upright bass to Moog. I make room by making coffee. I used to revel in my role of principal tea maker in the studio. I was very good. Six or seven cups all to the desired sweetness and strength. But there have been no communal tea-breaks here, it's been a bit of an every-man-for-himself situation. And no one drinks tea with milk, which for me is the comforting studio stimulant of choice, the perfect way to drip-feed caffeine. Tea is for morale.
The third presidential debate airs tonight. It's 1-1, so here's hoping Bams can cunt Rhomboid right out of the park.
And…he does! "We have these ships that go underwater, they're called nuclear submarines". They're rolling in the aisles! They're pleading for an encore! Call him a liar, call him a liar! And he does! He uses the word "whopper". That savvy combination of the vernacular with the statesmanlike is Obama's genius. That, and the faintest touch of King-esque inspirational oratory. Not too much to scare whites but enough to tug at the American sense of righteous destiny. Of course, if the Republicans weren't so beholden to their right-wing they could crucify Obama on his disgusting drone attacks. Secret state-sponsored assassinations on foreign soil? It's a slam dunk. Rombers can't touch that because half of his constituency would support a drone attack on Ahmadinejad or possibly Jon Stewart. Rombers used the word "kill" quite a lot. I can't imagine a British PM using that word to illicit votes. The west is still wild. The idea that violence is a legitimate pathway to securing one's interests is a pernicious idea here, drummed into you through films and TV and cultural rhetoric. We are more euphemistic about this in Europe. We who established the slave trade, colonialism by rapine and invented genocide. Although I baulk at the brutality of the language here I can't help but admire their candour. But it's shameful that the assassination of Bin Laden has become such a bloody feather in Obama's cap. He could easily have been arrested and tried. But they wanted blood. They got it and then flushed the evidence of their deed away. And everybody stayed quiet about it because of the one image that justifies all bloodshed: the penetration of those gleaming towers.
The following morning I find a mall and get my holdall, black and with a strap. You shouldn't mess around with shopping. Find and buy. I'm in and out of the bag place in minutes. I step into the Apple store on the way out. There is an entire regiment of blue T-shirted staff, wide eyed with Mac fervour, aligned and ready to pounce. I turn tail and scarper. Jesus. It's like stumbling into a Scientology coffee morning.
We attend to more vocal edits which Mr. McC has been busy with late last night. Berberian Sound Studio has an air of sadness creeping about it like smoke snaking from a slow fire somewhere. The end is knee high. I step outside to feel the fading heat and soak up the last of the light. Everything sinking into fall. Traffic, birdsong, the usual sounds. I am suspended between euphoria and despair and my roots here are rotting away.