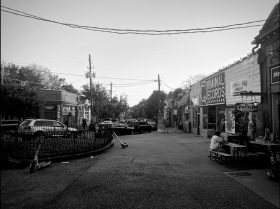 Atlanta
22nd April, 2022
We have a food poisoning casualty in the shape of Iain, who only barely makes it back on for the encore. He's parked in a hotel room to recover in Atlanta after resting in the back lounge overnight from North Carolina while I meet former A&M fixer Al Marks for a catch up lunch. It's warm and sunny in Little Five Points, the boutique-y neighbourhood that's grown in size and diversity since it began to be gentrified in the nineties. I saunter off for coffee after soundcheck and just as I sit at a sidewalk table an unlikely married couple approach. Unlikely because they don't look like Del Amitri fans (whatever that means). But they have flown from Honduras to see us. I'm quite bowled over and am overjoyed to be able to have a picture taken with them. An ancient biker farts his massive bike onto the pavement to park. His vehicle is artfully distressed with a faux rusted gas tank and a pathetic plastic rat glued to the front mudguard. Oooh, you rebel! He's trying to channel Mad Max but it's just Max Factor. It's getting busy now and I try to remain inconspicuous on my corner table. I do this by frowning intently into my phone whenever I see potential ticket holders. There are sparrows and cute little bequiffed cardinals hopping around under the trees, their chatter a tonic. Two ornery old beard-wearers behind me are putting the world to rights in what, from my brief earwigging, might be dullest conversation ever conducted. The Thunder Road biker joins in. Apparently he has five bikes, one with antlers attached. Unprovoked, he promptly comes out with some sexist, homophobic AND transphobic claptrap that, cognisant of the area, he imparts from behind his hand. He "jokes" that he's going to come out as a lesbian woman. He's as funny as famine. He's a flat out wanker. Off he pops on his fart machine, the little lids on his twin exhausts that twist up around his helmet comically opening and closing with the throttle like minor Muppets' mouths.
The ornery guys move onto a discussion about Ukraine and a harlequin masked busker arrives pulling a cart with guitar and amp and I have a terrible foreboding that the relative peace of my little corner of Little Five Points is about to be shattered. Kris sidles by, intrigued. By the style of Ibanez guitar he's sporting we predict metal. And rap-metal it is! To be fair, it could be worse and it could be lot louder. He has punk/grunge/rap tracks on tape and plays distorted chugging along with it. He's basically playing riffs along with records. In a clown mask. He whacks on Green Day and I take my leave. I search for five bucks to give him but I only have twenties. I'm not that soft.
It's a good gig for all of us tonight and aftershow it's temperate enough that we can hang with friends we've not seen for many years outside the venue. A few of us decamp to a bar next door. As we walk in a DJ in a little booth suspended above the bar plays Travis's Why Does It Always Rain On Me? It sounds warm, slow and comforting. I drift out into the cool night as the marquee lights go dark.